Neil Cullen's Presentation
FON Presentation
Holiday Inn Midtown
Austin, Texas
June 20, 2019
Intro self/Bio
I am a member of the Osher Lifelong Learning Institute-Wilmington (OLLI-W) at the University of Delaware. I serve on the OLLI-W Council as Executive Vice Chair and chairs the Fundraising Committee. I occasionally teach art and poetry courses. I sing in a local community chorus.
I served as the Chief Financial Officer at Phillips Academy, a private residential high school in Andover, MA from 1986 to 2004.   Prior to joining Andover, I served as Treasurer and Director of Administration at the Brookings Institution in Washington, D.C., Director of Finance and Dean of Planning at Brooklyn College in the City University of New York, a faculty member at Michigan State University, and a Peace Corps Volunteer in Nigeria.
I hold degrees from the University of Rochester, A.B. in English; Cornell University, M.A. in Education; and Michigan State University, Ph.D. in Education. 
Since my time as a PCV in Nigeria, I have had an abiding interest in communication and diffusion of innovations. How can one learn to communicate successfully across and within cultures? How does one introduce, implement and manage innovations within communities and organizations? Today, I will share the story of an incident during my Peace Corps service that stimulated my interest in cross cultural communication.
Who was I in June 1964?
Graduated from U of Rochester with AB in English.
Peace Corps accepted me to serve in Nigeria.
Trained at Barnard College in NYC for 9 weeks.
What did I do as a PCV?
Arrived in Nigeria with Group 11 on 9/1/64
Arrived Lagos, informed of assignment to teach in Birnin Kebbi
23-hour train ride from Lagos to Kano (600 miles), van to Birnin Kebbi
Began to teach English as a second language and literature in a boy's secondary school. Most students first generation. The West African School Certificate required that I teach the play, School for Scandal (18th century drawing room drama) to the 5th form. How remote from the Brinin Kebbi context can one get?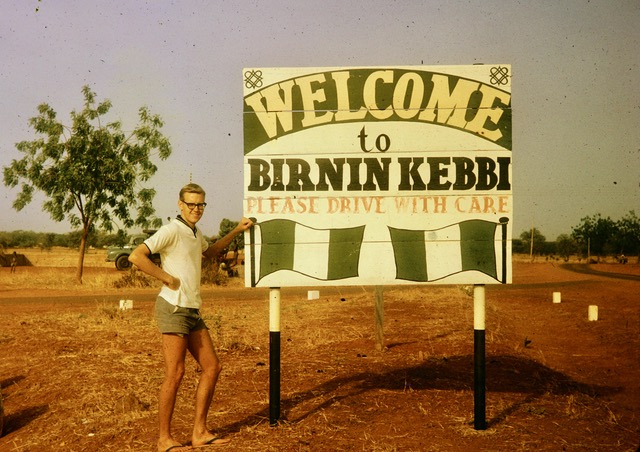 What was Nigeria like in 1964?
Not quite 4 years after Independence on October 1960 with Sir Abubakar Tafawa Balewa as Prime Minister. Federal Republic in 1963 with Nnamdi Azikiwe as the first President. Seen as a symbol of hope both for the country and the continent. PCVs and Nigerians felt quite buoyant. Three regions. First Coup, 1/15/1966. 3 key assassinations. Balewa, Premier Ahmadu Bello, Premier Samuel Ladoke Akintola. General Ironsi named head of the federal military government on 1/16/66. 2nd coup on 7/28/1966. Left Birnin Kebbi on 8/15. Flew to Cairo on 8/18/1966.
                                                Neil by the Welcome to Birnin Kebbi Sign
What was Birnin Kebbi like in 1964?
Northwest corner of the then Northern Region. Sout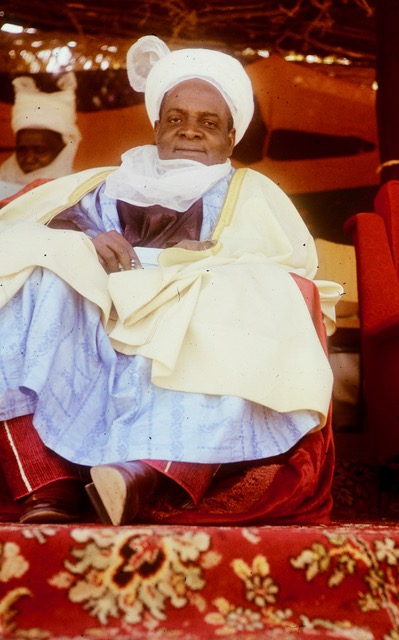 hwest of Sokoto. No electricity for houses or school. New school. Just adding the 5th form. House, a "Cozy Cosley" prefab. Running water, a bonanza. Post-colonial era and all colonial norms for expatriates. Steward and his small boy. Local club. Tennis and badminton courts. Not exactly roughing it. Igbo shops. Small local market. Seat of the Emirate of Gwandu. 
Sub-Saharan in climate. Considered by most to be the "end of the line". 11,000 people compared to 125,000 in 2007. 28 "Europeans" including the Barclay's Banker, the WHO rep working on an anti-malaria campaign, 5 PCVs, a VSO, a contract teacher from the US and 3 European women teaching at the Women's Training College.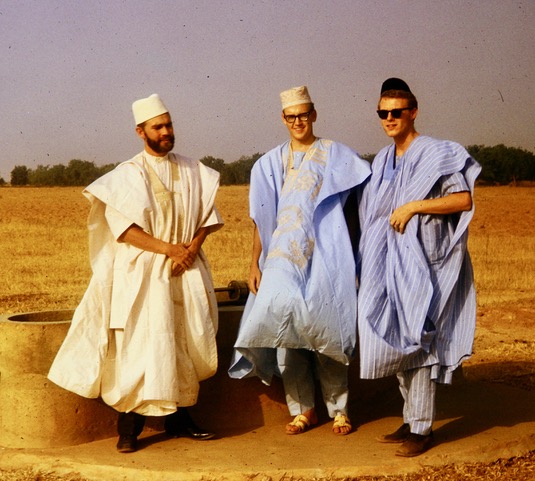 The Three Amigos, Bob, Neil and Bill, in Full Hausa Regalia                       
                    The Emir of Gwandu at a Festival
Fire!
January 1966 proved eventful for me, marked by our house fire on the 8th and the first Nigerian coup d'état on the 16th. Wrote my parents telling them not to worry. Ha! The fire was a shock. After dinner at a neighbor's house on Saturday night. Fellow PCV left to go home about 11:00 pm and shouted that our house was on fire. Ran out to see that she was not joking. Flames shot above the roof line. We arrived, emptied the house of furniture and belongings while watching the ceiling beams burn above our heads. Punched holes in the corrugated metal roof with large sticks to enable us to pry up the metal to get at the fire. Others brought water in pots, pans and calabashes to douse the flames from above. We numbered 10 in all. Concluded that the fire must have been started by an Aladdin Lamp too close to the bathroom ceiling.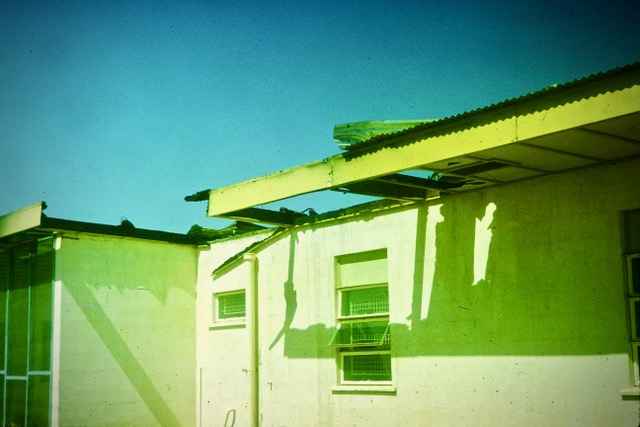 Burned Portion of House Above the Bathroom and Bedroom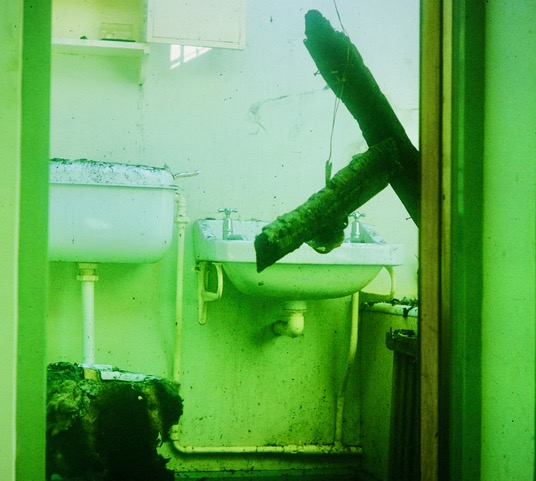 Neil Standing Below Charred Roof and Ceiling Beams                
                                             The Bathroom with Fallen Beam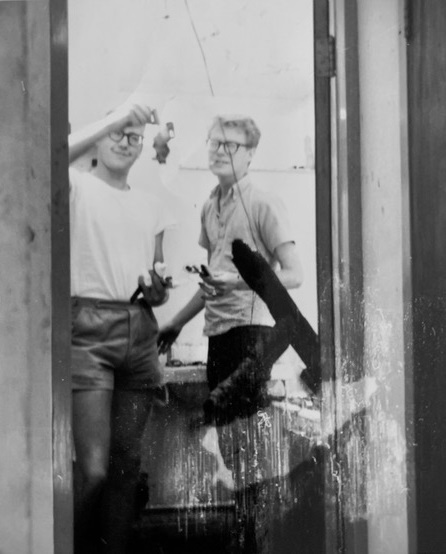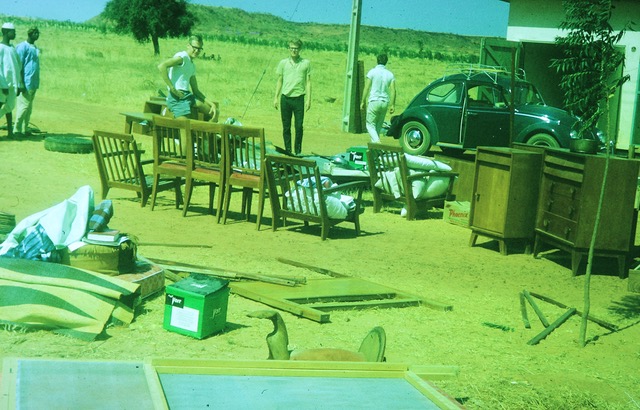 Front of House the Morning After
Feeling fortunate and pleased that we had extinguished the fire, we went to bed at a friend's house about 4:00 am. Arose late that morning to find the principal of the school at our burned home. Bill and I immediately found ourselves on the defensive. Quite upset that we had not awakened him the night before or earlier that morning. I explained that we had been occupied fighting the fire. Had we started the fire intentionally he wondered? We were stunned. We quickly moved from the euphoria that followed extinguishing the fire and preventing further damage to his advising us that we would face Board of Inquiry. He spent the next week    second guessing us. Blamed us for not following protocol, but he was unable to describe the protocol.                                          Neil and Bill Looking at Melted Razor
Bill irate. He was clearly anxious and bridled at any question that appeared to question his authority. I tried to reason with him and wrote a report to Board. Exonerated. Great relief. But afterwards, I thought. Yoruba man, angry at being assigned to this school. Unwelcomed by the local authorities. Truly a stranger in a strange land. Felt unappreciated and disrespected. Felt vulnerable as the new principal and worried that he would be held responsible for the damage to the house.
Classic example of two people talking by one another.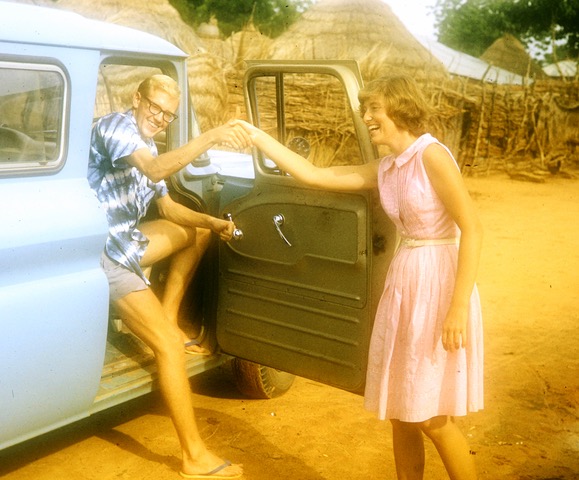 Neil saying Goodbye to Audrey, a fellow PCV, on the Morning of His Departure from Birnin Kebbi