Maternal Health Continued
Various reports from 2018 on Maternal Health and Fistula.
DAUGHTERS OF VIRTUE AND EMPOWERMENT INITIATIVE(DOVENET)/ FRIENDS OF NIGERIA(FON) APRIL REPORT
Brief background
With the support of Friends of Nigeria (FON) – Fistula Initiative, DOVENET works in  five Local Government Areas (LGAs) of Ebonyi State. The focus is to enhance community understanding for the prevention and treatment of fistula.
In the month of April 2018, DOVENET  conducted a number of town hall meetings in  Ebonyi.  The main purpose of the visits was to advocate for collaboration among the various traditional leaders, community chiefs, youth leaders, women leaders, and health committees, all of which play a significant role in the dissemination of knowledge to the community about public health. 
Providing accurate information on control and prevention was particularly important. The advocacy meetings also aimed at encouraging active participation throughout the project period and to establish necessary linkages for smooth project implementation.
Participant(s):
DOVENET Staff

Traditional Leaders

Community Chiefs

Youth leaders

Women leaders

Health Committees
| | |
| --- | --- |
| Meeting/Activity: | Community Town hall meeting 5 Local Government Areas(LGAs)in Ebonyi State. |
| Organization(s): | Daughters of virtue and Empowerment Initiative (DOVENET) |
| Location: | Ebonyi State, Nigeria |
| LOCAL GOVERNMENT AREAs (LGAs):   | Ebonyi, Onicha, Afikpo South, Afikpo North, Ohaukwu Local Government Areas(LGAs) |
| Date of Meeting: | 9th -13th  April, 2018 |
|   |   |
Major Issues Discussed: 
Town hall meeting was organized in the month of April, with the objective of increasing access to reproductive health services and reducing stigma. 
Also, the town hall meetings was to reach out to people at the grass root level with appropriate message on prevention of Prolonged and Obstructed labour, Obstetric Fistula, Family Planning and to create awareness on availability of care, support and treatment of Fistula.
This activity responds to the following indicators:
No of Men and Women of Reproductive age reached with intervention and prevention messages.

% increase of men and women of reproductive age accessing health care services.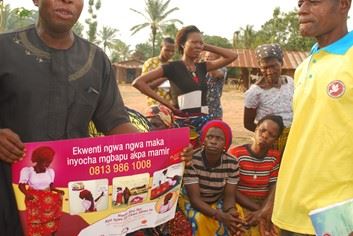 Major Issues Discussed:
Male involvement

Birth Preparation (importance and consequences)

Family Planning

ANC

Prolonged/obstructed labor

FGM

Skill of birth delivery

Girl child education

Obstetric fistula
Activity details
In this month of April, 2018; DOVENET supported its trained Ward Development Committee/Volunteers to conduct 5 community town hall meetings in 5 wards of implementation, the objective was to reach the general population made up of men and women of reproductive age, community and village heads with fistula prevention messages, and create awareness on the need to adequately access the reproductive health care services available at the various health centers most especially Antenatal care services and Family planning services, also to stimulate community stakeholders on the need to come together to develop community based bye-laws that will enhance, achieve and sustain Fistula Initiative project.
In the course of this meeting DOVENET also sensitized participants on the need to avoid stigmatization of fistula clients, and other women facing other maternal health issues, rather they should support in helping such an individual in accessing care and treatment, list of various health centre's providing free services on family planning and ANC services was shared to them, also they were also told that treatment for fistula is absolutely free, as many mothers were found living with Fistula.
DOVENET in her pragmatic effort held Community Town hall Meetings with leaders, and stakeholders also support them in outlining actions and roles towards reducing some negative factors contributing to maternal health issues facing the women in the community, also garner their support towards achieving positive maternal health outcome.
On course of this activities, DOVENET recorded the presence of the traditional rulers, village Heads, Traditional Birth Attendants, Town Union Chairmen, youth leaders, health workers, Religious leaders, school teachers/principals and some prominent community members from different works of life who have influential roles to play in the community and the welfare of women. At the end of the activities, the community members took ownership of their health by promising to make sure that maternal death/morbidity will be a thing of the past and will totally reduce compared to the data they were shown, also the chiefs expressed commitment to put the actions developed to work by having meeting among themselves and other key stakeholders so as to improve the Maternal Health of the women.
Also new fistula cases were identified and screened using the screening algorithm, then referred to the Fistula facility.
DOVENET supported her trained WDCs to conduct Community Town hall meetings/Dialogues, in the wards which were to strengthen and create awareness on Fistula intervention and prevention, on the importance to access family planning services, complete Antenatal Care services (ANC) and deliver at a chosen health facility; while WDC on their own conducted sensitization, church outreaches and Interpersonal Counselling to targeted population.
As a result of this outreaches in various wards and LGAs, DOVENET recorded number of women of reproductive age who were ready to access immediate family planning services and women already facing the challenges of Fistula.
At the end of the month of April, DOVENET recorded 2,352 (Male -584, Female-1,804) reached through advocacies, community dialogue, church outreaches, Community town hall meetings, and home visit.
In strengthening the community outreaches; DOVENET trained WDC/CV reached 50 households through Home visit which was aimed to monitor pregnant mothers, promote family planning among members of households, and reach household members with fistula prevention messages, availability of care, treatment and support services.
Below are the list of wards per Local Government Areas(LGA) where these town hall meetings were carried out:
| | | |
| --- | --- | --- |
| S/N | LOCAL GOVERNMENT AREAs (LGAs) | Ward |
|   | OHAUKWUE | Effium 2 |
|   | AFIKPO SOUTH | Ogbu |
| AFIKPO NORTH | ENOHIA NKALU ITIM |   |
|   | EBONYI | Mbeke 11 |
|   | ONICHA | Isinkwo Ukawu |
Client mobilization: In this month of April; DOVENET project team took mobilization of Fistula positive screened clients as a major priority, to this effect DOVENET intensified effort on interpersonal counseling, home visit, town hall meeting, outreaches, and community jingles through the town announcers which aided identification of (8) women with fistula.
Below are the Names of Identified Fistula Clients and their Wards/Local Government Areas.
| | | | |
| --- | --- | --- | --- |
| S/N | NAME OF CLIENT | WARD | LGA |
| 1 | Awo Grace | Inikiri | Ohaukwu  |
| 2 | Elizabeth Odi | Onuinikiri | Ohaukwu  |
| 3 | Ijeoma Simon Ikpere | Onuinikiri | Ohaukwu  |
| 4 | Ester Nwanga | Ohangelode | Ebonyi |
| 5 | Regina Okoro | Ogbu | Afikpo South |
| 6 | Agnes Igwe | Ishinkwor Ukawu | Onicha |
| 7 | Nwabo Ukamaka | Ishinkwor Ukawu | Onicha |
| 8 | Magareth Okorie | Ogbu | Afikro South |
Key outcomes and achievements:
Community advocates served as ambassadors in their various communities and wards in creating awareness on fistula prevention and treatment 

Commitments and support of community and traditional leaders to project intervention

Communal ownership of the Fistula Initiative Project

There was commitment from the Individual and groups to improve on the Family Planning and fistula prevention with commitments for continued dissemination of information to communities

Improved awareness of the Project in very remote villages in other states

New Fistula cases were identified during outside state activities
Next steps:
Mobilization and referral of Fistula clients intensified

Continuous community dialogues/town hall meetings

Review Meetings
Below are the Table summarizing activities and achievements during the town hall meetings by DOVENET:
Date
Activity
Location
Person Responsible 
Number of Ward Development Committee
Males 
Females
9th-13th April, 2018
Community Townhall meeting in 5 Local Government Areas (LGA)
5 LGAS
DOVENET
 
133
692
Total
 
 
 
 
825
Conclusions
In this month of April, DOVENET with the support of friends of Nigeria(FON)-Fistula Initiative Project, Community stakeholders, were able to reach 825 persons through community town hall meeting in 5 Local Government Areas(LGAs) 2,352 (Male -584, Female-1,804) in 15 wards of 5 Local Government Areas(LGAs) in Ebonyi state.
Submitted by: Program Officer
Name: Ijeoma Chiemela
Signed:
Date: 2nd MAY 2018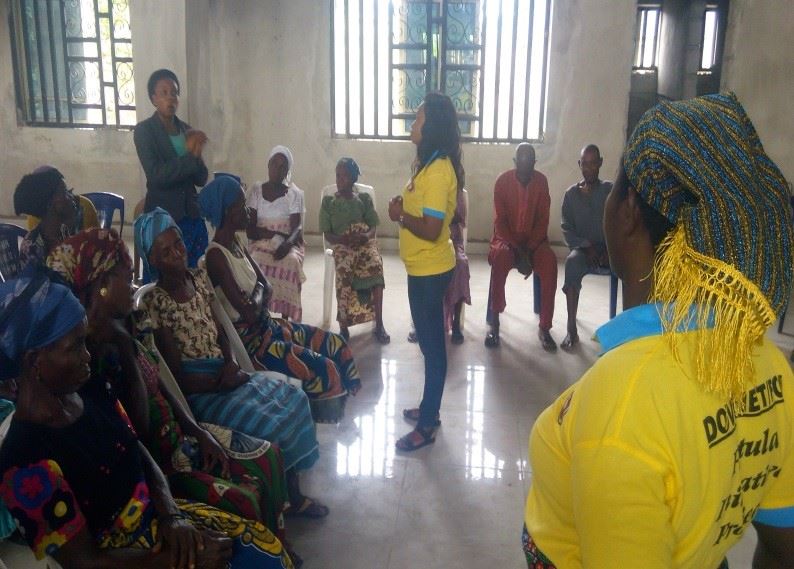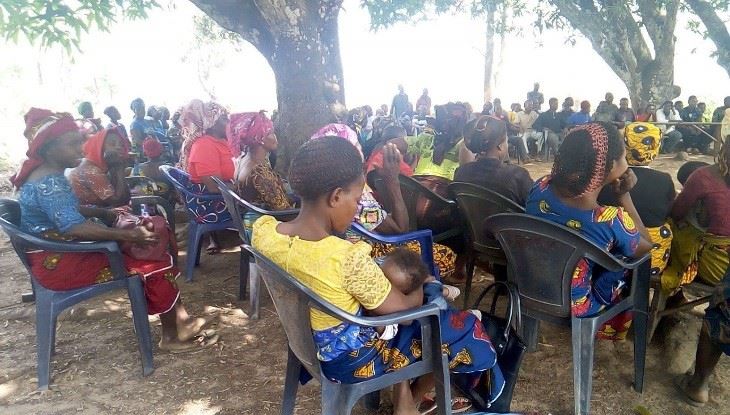 For most vulnerable Nigerian women, high rates of traumatic birth injury
This article appeared on the UNFPA website www.unfpa.org, the website of the United Nations Population Fund.  It was pointed out to us by Elisabeth Platt of Engenderhealth.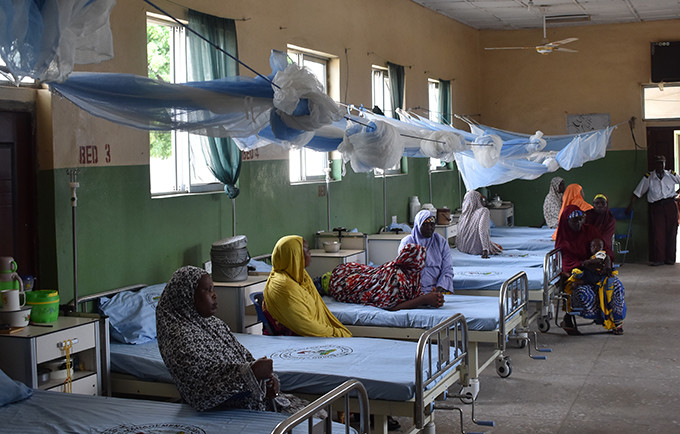 Women and girls are waiting for a fistula repair at Maiduguri's State Specialist Hospital
© Anne Wittenberg/UNFPA 
MAIDUGURI, Nigeria – "One week after I delivered my second child, I realized that there was an issue," Aisha told UNFPA from her hospital bed in Maiduguri, in north-east Nigeria. She had developed an obstetric fistula, a devastating childbirth injury that can derail a woman's whole life.
Obstetric fistula occurs during prolonged, obstructed labour. The obstruction can create a hole between the vaginal wall and the bladder or rectum, leading to incontinence – and often stigma, shame or even rejection from families and communities.
"I am now worried to mix with people," Aisha said. "I am so disturbed by this. I love my husband but he is so disturbed too."
Obstetric fistula is a major public health problem in Nigeria.
 According to a 2010 report by EngenderHealth, an estimated 400,000 Nigerian women and girls suffer from fistula, and approximately 12,000 new cases occur annually. 
This injury afflicts society's poorest and most marginalized – those without access to emergency obstetric medicine.
The humanitarian crisis in the north-east has exacerbated these conditions; a significant majority of the country's fistula cases take place in the north.
A broken system
Aisha was 12 years old when she got married, and 14 by the time she delivered her second child.
Her situation is not uncommon.
Women and girls in the region face high rates of child marriage and early pregnancy, which is part of the problem. Pregnant adolescents have a higher risk of experiencing fistula because their bodies may not be ready for motherhood.
"Early childbirth, a lack of skilled birth attendants, unavailability of comprehensive emergency obstetric care services and poor access to family planning are the main factors contributing to obstetric fistula," said Dr. Diene Keita, UNFPA's Representative in Nigeria. "All of these factors are very prominent in the north-east."
Fistula is preventable – with speedy access to medical care such as Caesarean section – and it is treatable with surgery.
"Opportunities for fistula repair surgery exist in North-East Nigeria," Dr. Keita said. "However, due to the ongoing conflict, health facilities in rural areas have been destroyed or damaged, and the referral system to operating hospitals and the outreach programme, to make women aware of the surgery, are broken."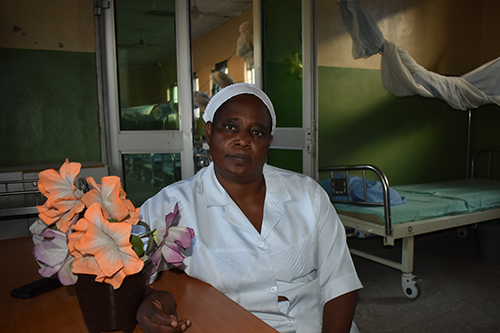 Asabe Christopher Mshelia works as a midwife and nurse
in the fistula unit.  © Anne Wittenberg/UNFPA  
Beyond reach
A fistula surgery costs roughly $300 to $420, which puts it beyond the reach of most of those afflicted.
And because the condition only affects vulnerable women and girls, and is not considered life-threatening, it is often not prioritized.
Every year, UNFPA's Campaign to End Fistula supports approximately 1,200 fistula repair surgeries in Nigeria.
"We see that the surgery is very important," said Asabe Christopher Mshelia, a nurse-midwife in the fistula unit of Maiduguri State Specialist Hospital, where UNFPA is supporting upgrades. "Not only for the individual woman but also as a pull factor for other women and girls to seek help. If a woman goes back to her community after a successful surgery, the good news travels and inspires others to come forward."
UNFPA is also working to improve access to emergency obstetric care in emergency settings. And the government has also adopted policies to help prevent and eliminate this injury.
But much more remains to be done.
Today, Aisha is on the waitlist for a repair surgery at the Maiduguri State Specialist Hospital. Despite her troubles, she is confident about the future.
"I want to go back to my husband and have more children after the surgery," she told UNFPA. "But I might advise my younger sisters to wait with marriage and children because I learned here that being a young mother can cause this issue of fistula."
– Anne Wittenberg
Nigeria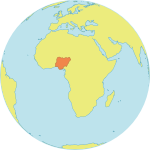 Population : 190.9 mil
Fertility Rate: 5.5
Maternal Mortality Rate: 814
Contraceptives Prevalence Rate: 21
Population Aged 10-24: 31%
Federal Government mandates free fistula surgery at teaching hospitals
By Franka Osakwe  22 August 2017 The Guardian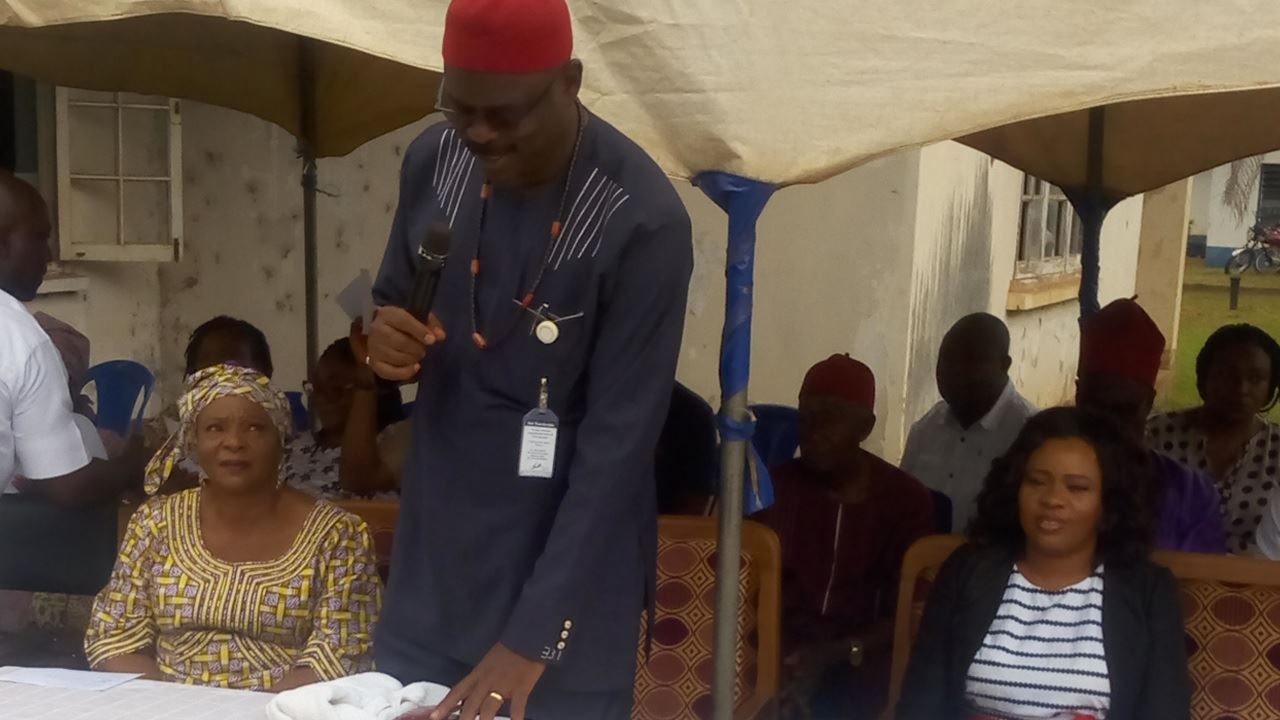 L-R: The National Coordinator of Fistula Project, Federal Ministry of Health, Chief Mrs. Ogunmayi Peters; The Country Manager EngenderHealth, Chief Iyeme Efem, and The Commissioner for Health, Cross Rivers State, Dr. Mrs. Inyang Asibong, at the General Hospital Ogoja, Cross rivers state, during the flag-off of the hospital's 16th obstetric fistula pooled effort repair. 
The Federal government, through the Ministry of Health, has dispatched immediate directive to all teaching hospitals and Federal Medical Centre in the country, to wave off payment of surgery and laboratory fees for all fistula clients who present for treatment at the tertiary hospitals.
The National Coordinator of Fistula Project, Federal Ministry of Health, Chief Mrs. Ogunmayi Peters, made this known yesterday, at the General Hospital Ogoja, Cross rivers state, during the flag-off of the hospital's 16th obstetric fistula pooled effort repair.
Mrs. Peters, who represented the federal ministry of health, said; "The letter has been signed and is being dispatched right now to all the teaching hospitals and Federal Medical Centres.  This is being done in collaboration with Fistula Care Plus Project, who will take care of the provision of consumables and other necessities", she said.
According to her, this directive will take place immediately, as soon as the hospitals receive the directive. "Our able Minister who is a renowned professor of obstetrics is already a fistula surgeon and he has taken it as part of his priority to take care of vulnerable women especially in the area of fistula and cancer cases.
She mentioned that the minister has also approved the creation of fistula desk in all the states. "For now we have about 16 fistula centres, we want to increase that to 36, in all the states of the federation, including the Federal Capital Territory (FCT). This means that all the tertiary hospital will have a fistula centre.
For training, we are collaborating with EngenderHealth, implementing partners of Fistula Care Plus project, to train and retrain the nurses and doctors, so they, in turn, can also train others", she said.
Mrs. Peters explained that the federal budget for fistula, has always been increasing but the problem is the release of fund.
Earlier on, the Commissioner for Health, Cross Rivers State, Dr. Mrs. Inyang Asibong, while delivering her speech, said the plight of fistula is considered an endemic situation, which is why the state now has a fistula desk in the ministry.
She added that the governor of Cross River State, Prof. Ben Ayade, is very passionate about the health of women and children, and is committed to reducing the backlog cases of fistula in the state.

In his speech, the Chief Medical Officer, General Hospital Ogoja, appealed for support for new VVF block and renovation of the old units. He said the VVF centre has so far carried out 500 obstetric fistula repairs through 18 pooled effort repair, since it started in November 2011. According to him, there is an urgent need for renovation and expansion due to constant clients' congestion.
He said, "the proposed new VVF block if completed, will accommodate consumable store, kitchen, internet services physiotherapy and a theatre. Other needs in the unit include utility vehicle, provision of ten solar electric light pole and medical commodities.
In his reaction, The Country Manager EngenderHealth, Chief Iyeme Efem, said there is an ongoing discussion between his organisation and Cross Rivers state regarding the construction of a new fistula block. He, however, assured the CMD, that the current block will be refurbished by Fistula Care Plus Project. "We're excited about this repair. The last one was done in April this year. We will continue until our women are all repaired. Now people are beginning to see that there is no state without fistula, and they are asking for a fistula centre. Hopefully, we will continue to open fistula centres until every state has a centre.
At the event, women who had been repaired successfully and had given birth afterwards were there to share their success stories. The Fistula Coordinator, Ogoja General Hospital, Mr. Paul Njagu, said, "this is proof that women who have been repaired can have a normal life. People thought that if you've had fistula repair, that your own is over but this is not true. In this centre, we have had success stories".
DOVENET INTERVENTION IN ERADICATION OF FISTULA IN EBONYI STATE
PRESENTED BY
UGO NNACHI
EXECUTIVE DIRECTOR, DOVENET
INTRODUCTION
What is DOVENET?
Daughters of Virtue & Empowerment Initiative; is a non governmental organization registered with CAC in the year 2005, with the vision to see a society where all individuals are empowered to contribute towards growth and development irrespective of gender; through advocacy, training/capacity building & empowerment.
What DOVENET Does…..!
HIV/AIDS Prevention/Intervention

Malaria elimination program

OVC Programs

FGM/Fistula intervention

Women & Children empowerment program

Gender intervention program
Target Population
DOVENET strategies in achieving her Project objectives
Our strategies
Advocacy

Sensitization

Peer sessions

Trainings

Media outreach

Focused Group Discussion

Movie Screening
FISTULA INTERVENTION IN EBONYI STATE       
Ebonyi state is one of the states created in 1996. As one of the young states, it has a palpable level of poverty and underdevelopment which enhance some harmful behavioral norms/practices; especially in the rural areas where about 70% of the populace dwell. Some of these practices lead to the occurrence of fistula.
In the year 2008, the wife of the former governor Her Excellency Chief Mrs. Josephine Elechi due to her interest for women development/empowerment and her passion towards reducing Maternal mortality rate in Ebonyi state conducted a base line survey in 13 LGA of the state and discovered that MMR is 1000 per 100000 Women of Reproductive Age.  To this effect she instituted a committee, for immediate intervention which DOVENET Executive Director was part of.
DOVENET CONTRIBUTION
DOVENET  Executive Director  with other  team members were able to jointly come up with an integrated approach to fistula issues at the state level.
Baseline survey in the rural communities

Workshop on reduction of MM in Ebonyi state

Maternal mortality monitoring bill

Construction of the VVF Centre (Obstetric fistula) which serve the South-Eastern state as well as clients outside the zone, among others.
DOVENET INTERVENTION
IN OBSTETRIC FISTULA
As a follow up with the efforts of the past First Lady of Ebonyi state, Her Excellency, Mrs. Josephine Elechi; DOVENET continued with sensitization/awareness creation, advocacy, media advocacy, peer sessions etc. to pass on the preventive message, identify clients and refer them for treatment at NOFIC. In June 2015 DOVENET came into partnership with EngenderHealth, to intensify our effort in achieving results. We are glad that the current Governors wife Dcns. Mrs. Rachel Umahi is also working hard to eliminate Fistula in Ebonyi State.
OUR ENGAGEMENT WITH ENGENDER HEALTH IN PREVENTION/INTERVENTION OF FISTULA
In our engagement with Engender Health, our area of coverage in 2015-2016 was 13 communities in Ikwo LGA of Ebonyi state, these communities are as follows(Ndufu Alike, NdufuEchara, Ekpaomaka, Agubia, Igboji, Amagu, Inyimegu, Idembia Noyo, Ekpelu, Nkalafor, Oronga, Ebisike, and Ameka) and scrambled activities in some other LGA such as Izzi(Iboko), Afikpo South(Ebunwanna), Afikpo North(Amasiri), Ezza South(Onueke).
Ikwo LGA is the largest LG in Ebonyi state; situated on the Eastern part of Ebonyi state with boundary with Ezza, Abakaliki & Cross-River state with a population estimate of 214,204 (NPoPC 2006).
Ikwo being the largest LGA, also has close boundaries with Crossriver. There is high prevalence of teenage pregnancy, early marriage, high patronage of TBAs & other harmful maternal health practices in the area which as a result gives rise to high incidence of obstetric fistula & other maternal health issues.
In 2016-2017(till-present), DOVENET is working in the 12LGAs of Ebonyi state, 24 communities, currently DOVENET has spread her tentacles to its neighboring states so as to totally eradicate fistula from not just within the state but in Nigeria as a whole.
Strategies/activities
Advocacy

Sensitization/awareness creation

Training of stakeholders (WDC, volunteers, community leaders, religious leaders, Health providers)

Peer sessions for MoRA/WoRA

Media outreach like Radio phone-in program

Family Planning Session

Town hall meetings

Community outreach

Church outreach

Market outreach

Movie Screening

Distribution of IEC materials; among others
DOVENET ACHIEVEMENT
In the course of her activities, DOVENET is currently in 528 communities in 12 LGA of Ebonyi State, from January-May 2017.  19,883 MoRA & WoRA (1,3767F, 6,116M) were reached.  Out of which 125 clients (41 VVF and 84 prolapse cases) were identified and referred to NOFIC.  54 are completely treated and are dry.
| | | |
| --- | --- | --- |
| Indicators | No. Reached | Source |
| No reached with minimum of three activities | 19883 | Attendance sheet (trainings and activitity register/ monthly summary register, pictures) |
| No of client identified and referred to NOFIC | 125 | Monthly summary register/referral form |
| No completely treated & are dry | 51 | Monthly summary register/refferal from |
| No referred that are vvf cases | 41 | Monthly mobilization register |
| No referred that are prolapsed cases | 84 | Monthly mobilization register |
SUCCESS STORIES
Establishment of laws by the traditional rulers in different Local Government Areas on home delivery which will attract serious penalties and report to law enforcement officers, eg. Ikwo, Ishielu, Ezza South LGAs etc

Restoration of a sense of dignity and pride to repaired clients

Penalties on all FGM practitioners given by Traditional Rulers and Village heads in all the LGAs

Broken homes restored due to successful surgery and dryness

Some clients have gone back to their businesses and are doing well.

Increase in accessing ANC and Family Planning

The rise of Fistula Champions among Survivors.
CHALLENGES
Ineffective health care facilities.

Poor knowledge of VVF among health workers

Delay in accessing health care. Eg. Distance, poverty, ignorance, among others.

Inadequate Skilled Birth Attendants

Cultural beliefs.

Inadequate support from stakeholders

Poor reportage of fistula issues

Illiteracy
RECOMMENDATION
Collaborative efforts towards reaching the entire population, reducing MM and eliminating fistula

Empowerment of repaired clients through skill acquisition & financial support.

Dissemination of information on Fistula should be sustained

Sustaining Adult information programmes

Improved funding and need for interest on uterine prolapse

Need for DOVENET to intensify more efforts in other neighboring states with the support of EngenderHealth.
DOVENET PARTICIPATION IN THE IDEOF-2017
DOVENET joined USAID/EngenderHealth and office of her Excellency Dcns. Mrs. Rachel Umahi to participate in the commemoration of the 2017 International Day to End Obstetric Fistula(IDEOF), with other stakeholders and in the state like the National Obstetric Fistula Centre(NOFIC), Abakaliki, the media, NGOs and other line ministries, etc.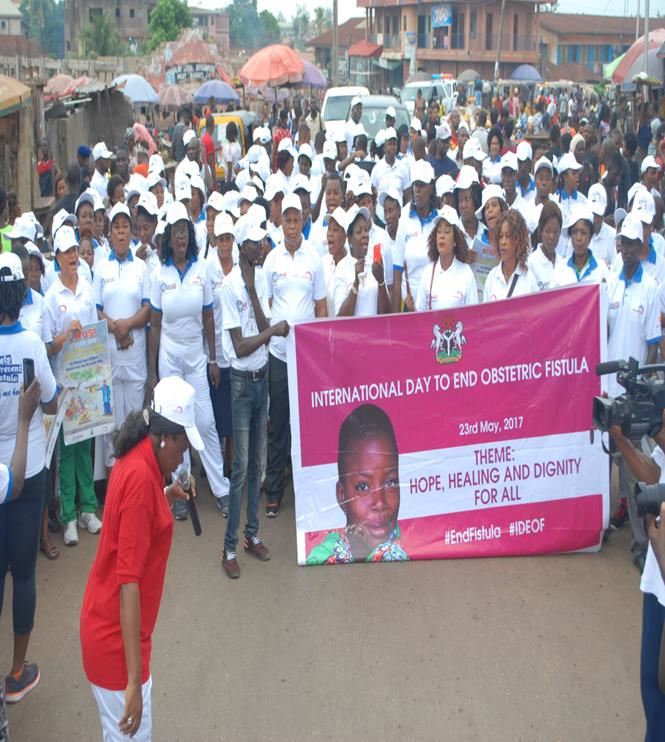 DOVENET and a Fistula Survivor/
Champion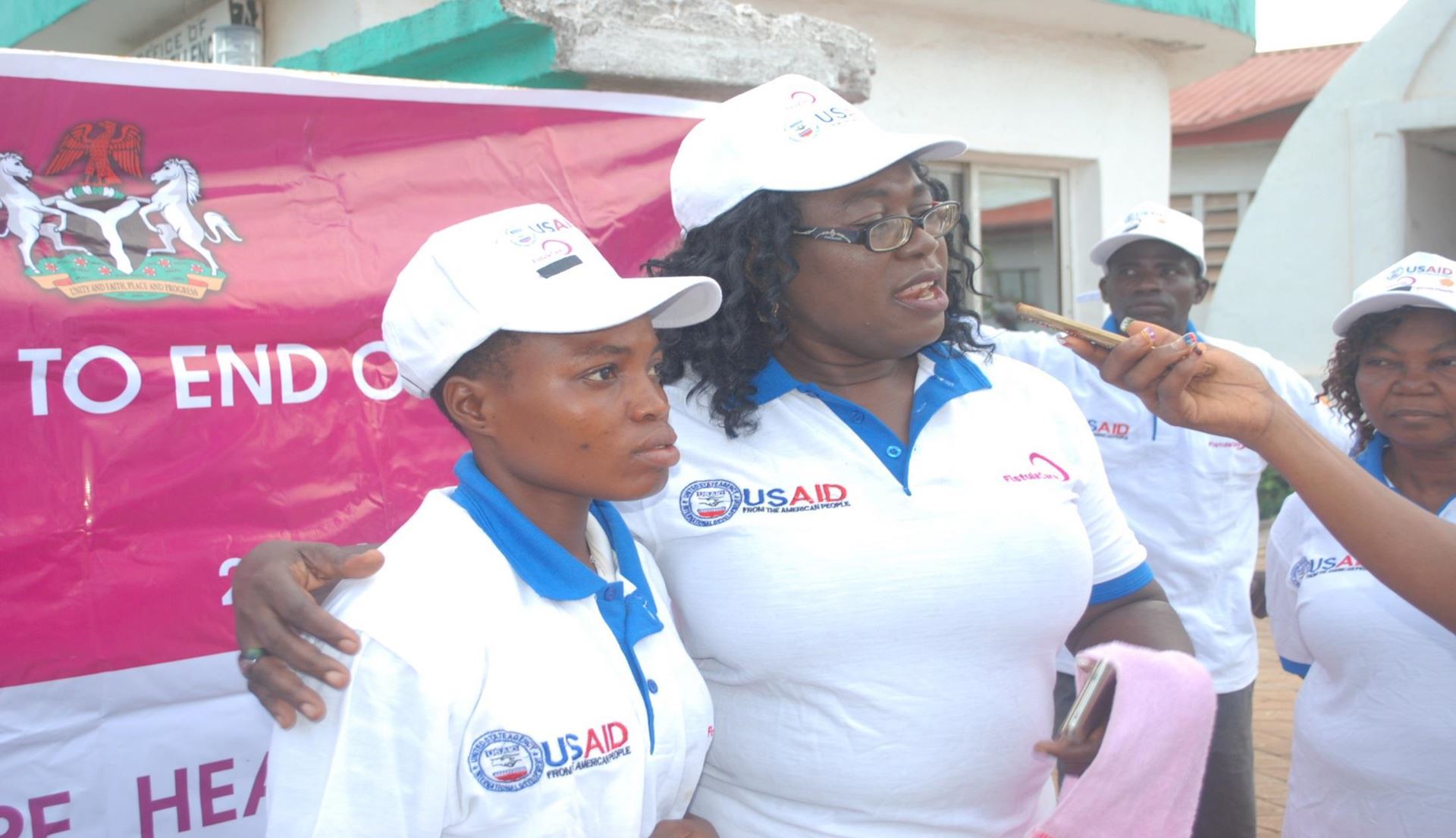 APPRECIATION
DOVENET is using this medium to thank her partner USAID/EngenderHealth for her Financial support and Partnership in the Fistula Care Plus Project since 2015 till date, also, thank NOFIC Abakaliki, EBBC, Unity FM, Ebonyi State Ministry of Health, traditional rulers, Church leaders in Ebonyi and its neighboring States and other relevant stakeholders for their immense support.
THANK YOU!
Email: dovenetng@yahoo.com
Website: www.dovenetng.org