FON Annual Meeting Agenda 2017
Agenda for FON biennial meeting, Denver, Aug. 3-4, 2017
All Events at Holiday Inn-Cherry Creek
Thursday Evening 8/3/17
5:00-7:00 pm- Meet your FON friends and other guests for registration in the Hospitality Suite on 9th floor, then head off for dinner on your own with old and new friends.
7:00-9:00- FON Board Meeting open to all interested, Hospitality Suite          
Friday 8/4/17
6:30 – 8:30 am- Breakfast buffet free for Holiday Inn guests
8:00 – 8:45am- Meeting room opens
8:45 – 10:15- FON Highlights – Acting President Jim Clark
Welcome and overview of year
Election and introduction of Board Members (Peter Hansen)
Treasurer's Report – Warren Keller
Review of Projects, including Queen Obasi's report (15 minutes) on our contribution to African Community Health
Glenn Blumhorst, President of NPCA 10 minute talk.   Minutes of Biennial General Meeting
Funding Proposals:
10:15 – 10:30: Meeting break, light refreshments   

Featured Speakers

10:30 – 11:00: Dr. Austin Okigbo, ethnomusicologist

11:00 - 11:30: Okey Ndibe, author and Nigerian literary expert

11:30 – noon: Josh Arinze, journalist, commentary on current Nigerian affairs

noon – 12:15pm:  Member announcements, heads up on afternoon visioning exercise  Other Nigerian Authors
12:15 – 1:30pm- Luncheon, hosted by FON. The board will conduct election of its officers at this time.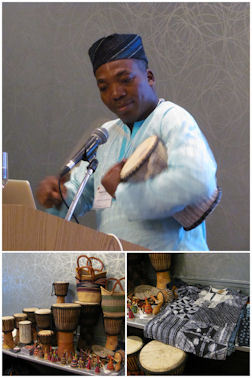 1:30 -2:00pm- Abdullahi Edward Tomasiewicz via Skype – On the Ground In Nigeria
2:00 – 2:15pm- Mini-break, refreshments
2:15 – 3:45pm- NIGERIAN CULTURAL PRESENTATIONS
Martha Wallace will present artists who have brought the culture of Nigeria to Santa Fe.
Vikki Scott, Oshogbo art expert
Akeem Ayanmyi, drummer
Gasali Adeyemo, fabric artist
3:45 – 4:00pm: Mini-break
4:00 – 4:15pm: Entire group is introduced to visioning process and divided into smaller groups
4:15 – 4:45pm: Groups brainstorm on ways FON can continue to be relevant before ultimately leaving a legacy  Brainstorming Questions
4:45 – 5:30pm: Groups report back to the entire meeting. Notes will be taken to continue planning after the meeting via web, email, newsletter and possibly regional meetings of the FON community.
5:30 – 6:00pm: Cocktail Time (No host)
6:00 – 8:00pm:  African Dinner – The first Star Beer is on us!
8:00 - onwards: Reunions and informal gatherings